Size isn't everything when it comes to a great kitchen. With a little bit of creativity and an eye for functionality, the smallest of kitchens can turn into magazine-worthy rooms. Whether it's a coat of paint on the cabinets or a complete re-haul, there are always things you can do to improve your kitchen. We hope these 10 0small kitchen remodels inspire you! Number 1.
Before The stark contrast between the white appliances and dark stained-everything make this kitchen feel outdated, dark, and cramped. An open floor plan would help create more flow in this space, too. After Dorsey opted for a backsplash of white subway tiles and tore down the wall of cabinets separating the kitchen from the living space to make it feel more open and spacious.
The kitchen island also introduces extra seating and useable space. Number 2.
Before This kitchen isn't in need of a major facelift, but it could use a few updates to make it feel more sophisticated, stylish, and contemporary. After While this kitchen didn't undergo any huge renovations, it looks decidedly better. With a makeshift kitchen island that provides extra work space and storage, fresh white paint, and more task lighting instead of a retro ceiling fan, it's good to go.
Number 3. before Sara Davis wasn't too fond of the original kitchen in her home, which featured dated cabinets and appliances and a "frustrating" layout that closed it off from the rest of the downstairs.
after In addition to opening up the wall between the kitchen and living room, Sara brought a modern feel to the space with new paint, pulls, and fixtures. Another great fix: pulling out the kitchen island to deepen the room and leave more space to walk around. Number 4. before Joanna Hawley describes the original kitchen in her tiny bungalow as "dark, dingy, and very, very sad." Judging by the after though, it's now anything but.
after Joanna embraced a tuxedo look for her small kitchen remodel, with black shaker cabinets, Polycor Georgia Marble counter tops, and brass accents to bring the whole room together. Number 5. before Nobody understands the pains of a small kitchen quite like Christina Dennis of The DIY Mommy, who has now renovated not one but two tiny campers for her family. after With a little of paint and an eye for functional details, Christina totally transformed this camper's kitchen into a truly cheery space.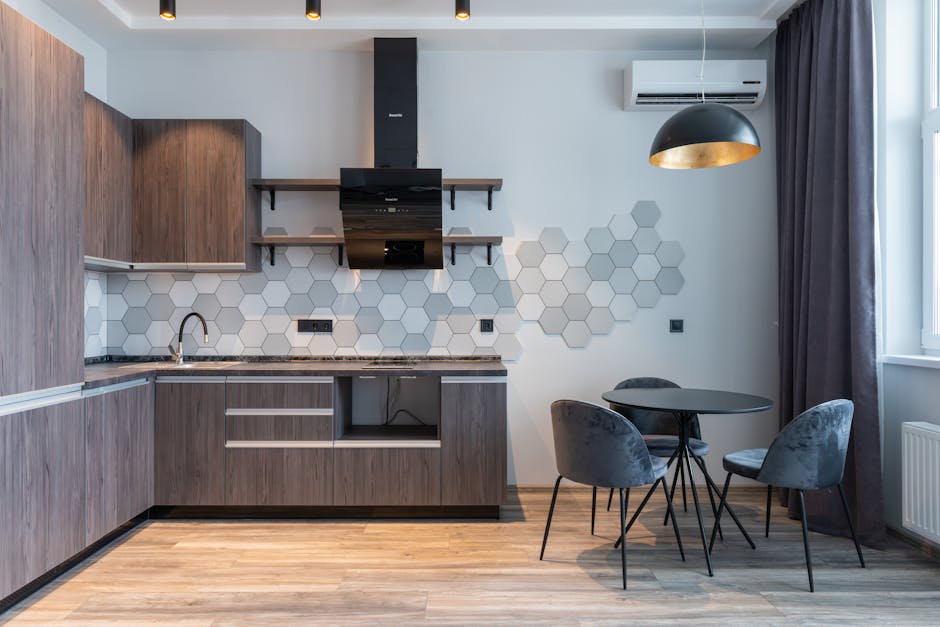 We especially love the vintage-inspired mint green lower cabinets, as well as the cute little shelf under the sink.
Number 6. before Cori George wasn't in love with her dated kitchen, none of which matched her bright, fun, and colorful style. after This refresh took $2,500 and some hard work, but there's no arguing with these great results. Cori and her husband Ryan refinished and painted the cabinets and swapped out the tile counters for butcher block. Number 7.
before Beth Light had a pretty big job ahead of her when she took on her parents' small kitchen remodel. The uninspired space left a lot to be desired—including a keen lack of personality.
So how'd she turn it around? after This kitchen came to life with cabinetry and tasteful touches like open shelving and a newly centered sink. The former drop ceiling was evened out to enlarge the space, while subway tiles extend all the way up for a continuous, finished look.
Number 8. before We have nothing against blue and white and definitely love a great '80s-inspired design moment, but we're happy to report that this kitchen was totally gutted. after While the layout of this kitchen is great as is, it could use an upgrade style-wise. Plus, it needs more overhead task-lighting and statement lighting. Number 9.
before For this food blogger, a tiny kitchen packed into a corner was a far cry from what she needed for her recipes. after That's why she went all out with her renovation, tearing down walls and adding serious counter space in a neutral white. Number 10. before This 1980s home featured dated, wooden cabinets and a layout that made the room feels smaller and more compact than the reality.
after After ditching some upper cabinets and adding a dreamy counter in the middle of the room (not to mention a total color overhaul), this kitchen feels totally modern.
.